WG series offset pivot guides
The offset pivoting web guiding systems WG are the ideal solution for the majority of web guide system applications. They are designed with a basic framework on which a second mobile framework, equipped with rollers, is mounted. The mobile framework rotates around an axis, called "pivot". In our web guiding systems, this corresponds to the ideal rotation axis, which therefore guarantees a higher level of adjustment precision compared to the fixed pivoting frameworks.
In addition to the pivot point, the web is also tensioned correctly and constantly, and this, together with the cork, or other special coating of the rollers, creates the gripping effect required to perform the movement. The offset pivot web guiding system, according to different market requirements and to different application sectors, can be designed and manufactured in different sizes to guarantee fitting onto the machine they are to be used on.
WG.100 and WG.251 are the smallest models. They are extremely compact and are usually used in machines that work with small webs, such as the hygiene industry.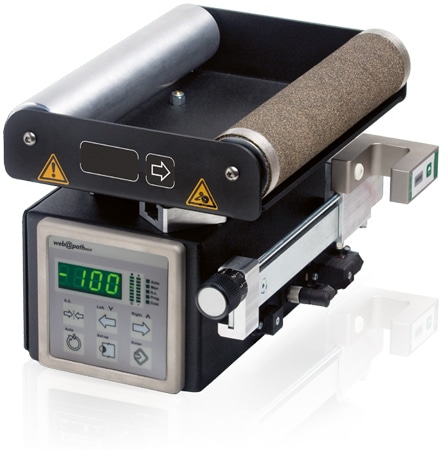 WG.251-SKB is a special version of the WG.251 model that integrates the MWG10.1 driver in the frame with a high IP protection level, ideal for dusty environments or in the presence of liquids (such as in bottling lines).
WG.700 and WG.703 are usually used in the labels and nonwoven industry.
WG.705 is a very compact model easy to cable and with the possibility to integrate the keyboard onboard to simplify all operations.
WG.2000 is the largest model of the series usually used on rotogravure, flexographic machines, machine for the extrusion of plastic film or when the laminates are larger than 800 mm.
| | Actuator stroke | Min-max actuator speed | Roll length | Max web tension |
| --- | --- | --- | --- | --- |
| WG.100 | ± 10 mm | 4,5-70mm/s | 100-160 mm | 100 N |
| WG.251 | ± 10 mm | 4,5-70mm/s | 160-400 mm | 150 N |
| WG.251 – SKB | ± 10 mm | 4,5-70mm/s | 200-350 mm | 300 N |
| WG.703 | ± 20 mm | 4,5-70mm/s | 400-700 mm | 300 N |
| WG.700 | ± 25 mm | 4,5-75mm/s | 350-700 mm | 800 N |
| WG.705 | ± 20 mm | 4,5-70mm/s | 350-700 mm | 500 N |
| WG.2000 | ± 25 – ± 50 mm | 4,5-75mm/s | 800-3000 mm | 2500 N |
This information is correct at date of pubblication, but is subject to change without prior notification, or as required by IBD Wickeltechnik GmbH
Web guiding with WG pivot guide
As opposed to frames with physical pivots, in the IBD web guides the mobile frame rotates around a virtual axis (called "pivot") which is the ideal rotation axis, allowing for greater adjustment precision. The material elasticity module determines the space needed to infeed and outfeed material from the web guide, which is generally at least ¾ the maximum width of the web.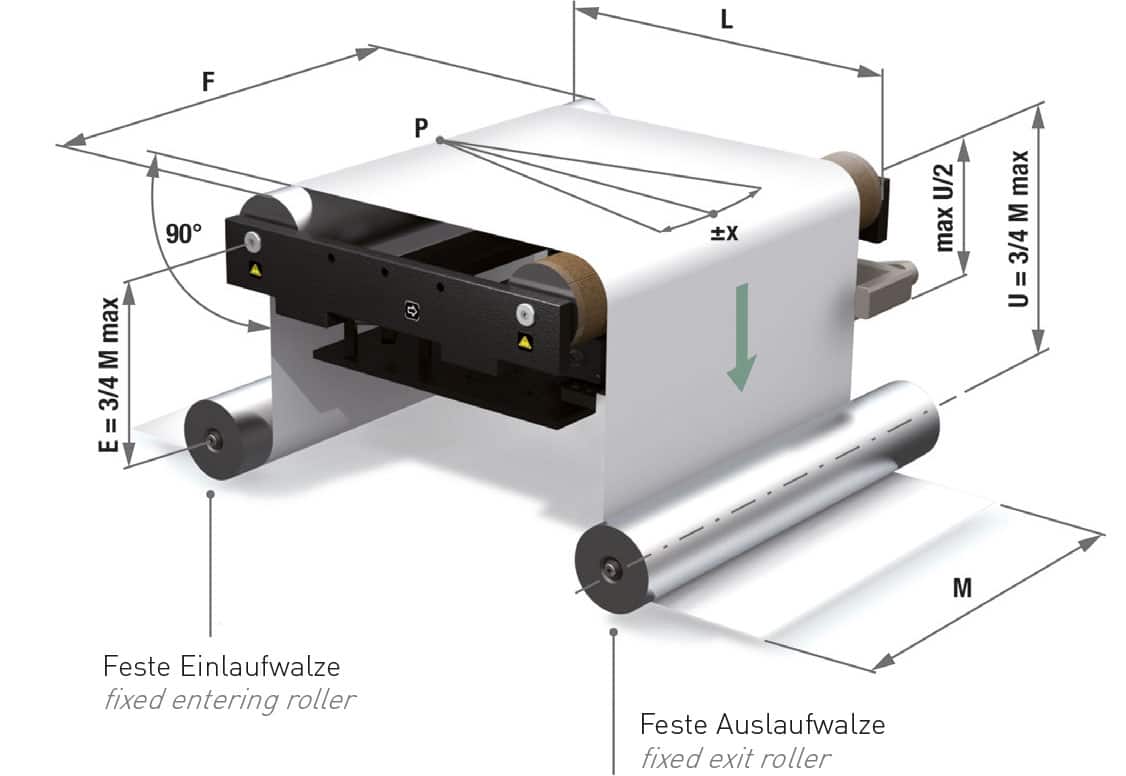 | | |
| --- | --- |
| Material width | M |
| Guide span | L |
| Entering span | E |
| Exit span | U |
| Guide angle | X |
| Pivot point | P |
| Roll width | F |
Examples of possible web paths