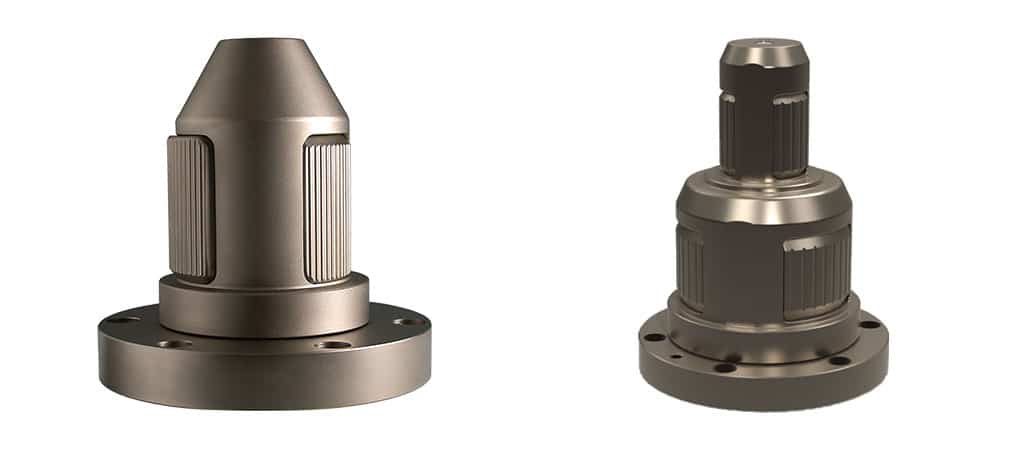 Mechanical clamping chucks – MSK-S / SM
The new mechanical rotation chucks use the movement of the reel to expand the sector elements in order to block and centre the reel core automatically.
This solution ensures maximum control of the reel and reduces damages to the cardboard cores, which can therefore be used again with considerable savings.
The mechanical chucks are available in various dimensions: with single and double diameters, with profiled sector elements to increase the locking force or smooth for cores which are made of other materials than cardboard.
Our sales office is pleased to support you to find the most suitable chuck for your application out of our wide range.
The simple installation and maintenance as well as the minimal costs allow clients to renew their entire set of chucks with a minimal investment.

MSK-S
A
mm
B
mm
C
mm
D
mm
max expan. Ø (mm)
max roll weight (kg)
torque (Nm)
X
3″
75
149
20
148
84
1800
1150
on customer's
request
100 mm
98
149
25
198
107
2500
2500
4″
100
149
25
198
109
2500
2500
5″
125
149
25
216
134
3500
2500
6″
150
149
25
216
159
4500
5000
12″
303
149
30
398
312
11000
16000

MSK-SM
AI / AII
mm
B
mm
C
mm
D
mm
max expan. Ø (mm)
max roll weight (kg)
torque (Nm)
X
3″ / 4″
75 / 100
250
25
198
84 / 109
1800 / 2500
1150 / 2500
on customer's
request
2″ / 6″
75 / 150
250
25
216
84 / 159
1800 / 4500
1150 / 5000
4″ / 6″
100 / 150
250
25
216
109 / 159
2500 / 4500
2500 / 5000