Manufacturers regularly ask for increasingly lightweight winding shafts. They usually want to achieve higher user-friendliness or are compelled by work regulations in their country to find other options to reduce weight. Just because shaft handling devices are very expensive or cannot be used due to sheer lack of space, the winding shaft offers optimisation potential.
For this purpose the IBD Wickeltechnik GmbH developed a clamping shaft with aluminium bearing pin for the packaging industry for a customer in Australia. The low weight was crucial since a regulation is applicable for many companies in Australia that a worker is allowed to carry only a maximum of 23 kg. With the HART-COAT® process for aluminium, the journal obtained a wear-resistant surface. The weight of the clamping shaft could be reduced by 4 kg and was many times cheaper than a clamping shaft made of carbon fibre. Despite the aluminium bearing pin the shaft can be loaded up to 800 kg, which is totally sufficient in this case.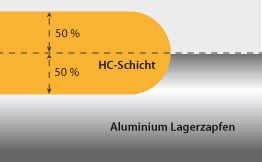 The patented HART-COAT® process of AHC is a hard-anodic finishing of aluminium. Hereby an electrolytic treatment of aluminium materials is carried out leading to the formation of an oxide layer. This oxide layer has, inter alia, the following properties:
the aluminium gets a very high wear resistance
the hardness is increased
good dimensional stability
a much improved corrosion resistance.
This oxide layer, also called HC-layer, is approximately 50 µm thick. Whereby 50% of the material is waxed and 50% coated.
With a weight ratio of steel 7.85  kg/dm3 to aluminium 2.7 kg/dm3 , you can roughly speak of a reduction in weight of the journal  by 2/3rd. Since the solid bearing pin often makes up a large part of the winding shaft's total weight, this reduction is decisive.
With medium load a winding shaft with hard anodised aluminium bearing pin is a genuine alternative to an expensive carbon fibre shaft, when it comes to saving a few kilos in weight. The use of lightweight IBD clamping shafts with aluminium HC-journal  is useful particularly in the packaging industry where there are frequent reel changes.